Meet Monty

is papers read Vermont's Golden Boy, but everyone knew him as Monty. A therapy dog and once-in-a-lifetime companion, he gave more love and spread more joy than ever imagined. He started each week with visits to nursing homes and hospitals in Southeastern North Carolina. "Monty Mondays," as they soon were called, brought sunshine and hope to facility residents and patients. Monty's charm allowed them to forget their troubles for a moment and receive the unconditional love only a dog can give. He brightened their day – without fail.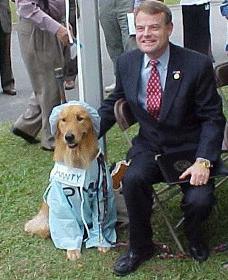 While Monty earned many competition obedience titles and received nomination for American Canine Excellence - AKC recognition award, his greatest achievements came from day-to-day activities. As the focal point for local therapy programs, he raised public awareness about pet care and helped spotlight the needs of animal rescue groups. With a costume for every occasion, Monty quickly became a certified tail-waggin', four-legged celebrity. He appeared on local and national TV and turned up regularly in many newspapers and magazines articles. His endless array of tricks delighted young and old alike. And best of all - Monty was never too busy to stop and share some love.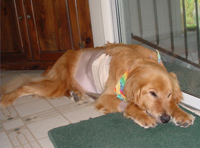 That all changed in June of 2005, after a visit to our veterinarian and we heard the words "malignant heart tumor." He was only six years old. Surgery relieved the immediate symptoms, but the prognosis was guarded - medical opinions gave us only three more months together. Shocked, devastated, desperate, we turned to our "dog world" connections - breeders, trainers, AKC contacts, pet loving friends, anyone - for support. From that support grew referrals, recommendations and resources for holistic and alternative medicine. We researched everything, tried different things, turned to loving, understanding friends and shed many tears.
Monty's Home would make sure no one had to go through this alone. Even in death, Monty continues to spread the unconditional love he shared so freely in life.Monty stayed with us for eighteen more months before we had to let him go.
From that place of sorrow and loss sprouted the seed of Monty's Home. Being intimately involved in training, competitions and other dog-related activities, I had wonderful resources from which to pull and an awesome support system on which to lean. But what about the people who faced dreadful news alone? I had a difficult enough time.
I cannot fathom those last eighteen months and losing Monty without the love and support I received. I knew then no one should ever go through losing their beloved pet alone. Monty's Home needed to become a reality.
Barb Raab
Monty's Companion and Founder of Monty's Home