History of Pawsitive Partners Prison Program
This page chronicles the history and milestones of the Pawsitive Partners Prison Program. For frequent visitors or those wishing to skip to their topic of interest, please select from the topic link below. Those wishing to learn more about the program, scroll down the page. These pictures, this story, illustrate hours and hours of hard work from Monty's Home Trainers and prison officials – a wondrous feat.
Construction:
In May of 2008 the Monty's Home Board of Directors received approval to move forward with the companion dog prison training program and look at what the cooperative effort of Monty's Home volunteers, prison officials and inmates accomplished in July and August.
| | | |
| --- | --- | --- |
| | | |
| Barb Raab, Monty's Home Founder, Brian Wells, Assistant Superintendent of Programs and Michael Bell, Correctional Facility Administrator look over the program kennels at Pender Correctional Institution in Burgaw, NC. | | Bryan and Barb discuss the next phase of construction. |
Bryan and Barb demonstrate kennel features.

Inmates build storage space for PPPP supplies

.
Interviews for inmate trainers concluded the week of September 12th. Seven inmate trainers (five primary and two alternates) spent the next few weeks preparing for the start of the inaugural class on September 29th.
During that same few weeks, five dogs from the available population at Pender County Animal Control, went to the vet, were spayed or neutered and spent a few days at assorted volunteers' homes prior to the start of the program.
The official ribbon cutting for the Pawsitive Partners Prison Program was Monday September 29th, 11:30 a.m. at Burgaw Correctional Institution. Due to prison security requirements, the event was by invitation only. We have lots of pictures, information and happiness to share.
Ribbon Cutting:
Monday, September 29th, 2008, Monty's Home volunteers saw more than eighteen months of hard work, coordination and fundraisers come to fruition with the kick-off of the Pawsitive Partners Prison Program. Excitement in the room was palpable as media, volunteers and community supporters gathered in the auditorium on the grounds of the Burgaw Correctional Institution to join in the celebration. Falling under the umbrella of the prison system's New Leash on Life program, this is the 18th such program in the state, but one of the only ones sponsored completely by an outside volunteer organization.
| | | |
| --- | --- | --- |
| | | |
| Michael Bell, Correctional Facility Administrator, addresses the crowd while Bryan Wells, Assistant Superintendent of Programs listens intently. (Both men helped make this day possible. | | The crowd looks on as Barb Raab, Founder of Monty's Home, shares information about the dedication and hard work it took to bring the program to the prison. "I'm like a little kid at Christmas today." |
I

nmates and their dogs get acquainted, oblivious to the visitors and festivities around them.

It's just not a celebration without a cake!
Not pictured are the adorable dog biscuit shaped cookies and other great food prepared by the prison catering program.
No one quite expected the emotional response this program would bring. Tears welled in many eyes that day as the inmates were introduced and accepted their canine charges. Barb Eagles, one of our trainers, put it best:
"I was so moved on Monday to see what this meant to the inmates, which was unexpected and really incredible ... I focused all this time on saving the dogs, I didn't really understand how this saves the inmates."
This program truly is larger than the sum of its parts.
First Class
Immediately after the kick-off ceremony, Monty's Home and inmates trainers started training the first five dogs of the program:
| | | | | |
| --- | --- | --- | --- | --- |
| | | | | |
| Amos (Delta's littermate) | | Beauty | | Cheyenne |
| | | |
| --- | --- | --- |
| | | |
| Delta (Amos' littermate) | | Ellie |
Whitney Doremus and Barb Raab ran this first session. And after only one week of classes, Whitney made the following report to the rest of the volunteers:

"As I was leaving class today one of the inmates approached me and said, "All these years I thought I knew how to train a dog. Who knew there was a better way? Man, as soon as you think you know something..." and then he trailed off into thought. I for one thought the implications of his realization are huge.

"It should also be said that I have never seen five dogs learn so much so fast … they all look great, they all seem content, and they are definitely bonding with their people.

"We all knew the dogs would benefit and the inmates would benefit but let me tell you... all us volunteers will and are benefiting too!"

Here are some candid shots of the class in action. Visit our scrapbook for more pictures taken during this and subsequent classes.

| | | |
| --- | --- | --- |
| (L-R) Barb Raab, Whitney Doremus and Barb McNinch discuss class strategy. | | Cheyenne practices retrieving the newspaper for her new family. |

Above:
Inmate trainer D. Smith teaches Amos to roll over.

Right:
Inmate trainer B. Middleton dances with Ellie.
(Just look at that smile.)

Above:
The inmate trainers and their dogs await further instruction.

Left:
Barb McNinch and D. Smith practice for Canine Good Citizenship testing.
As an example of the success these trainers had with the very first group, here's a group shot of a down stay. For those of you who don't know, a down stay in training means you command your dog to a down position, tell it to stay and walk away. The dog remains in position until the release command is given.

Go to the scrapbook for more heartwarming shots. We'll add more every class.
A special thanks to Dick Parrot, Dick Parrott Photography for these incredible shots
First Class Graduates
After eight weeks of hard work and diligent training, every PPPP dog passed the American Kennel Club Canine Good Citizen test and received their certification.

On November 20, 2008, the first class graduated in what proved to be a very emotional ceremony for everyone. There was not a dry eye in the house – male or female – as the inmate trainers walked down the main aisle of the auditorium with their dogs, crossed the stage to receive their diploma and finally, handed the leashes over to the new families.

Moved by the emotion of the moment, several adoptive family members hugged the inmate trainers – breaking from prison protocol. No one seemed to mind. At that point in time, we weren't inmates, prison officials, volunteers or community members. We were dog lovers. And that common bond united us.

The willingness to learn and eventual expertise of the following inmates helped make this program a tremendous success:
Donnie Smith trained Amos
Erik James trained Beauty
Maurice Parker trained Cheyenne
Jeffrey Lane trained Delta
Bobby Middleton trained Ellie
and
Iziak Johnson and Craig McCall, the assistants, helped train all the dogs.
Thank-you gentlemen.
Now, sit back and enjoy the wonderful pictures taken by Dick Parrott, both here and in the scrapbook.
Barb Raab, (standing) Monty's Home President, addresses the graduation crowd. She's flanked by (L-R) Dianne Moore, Correctional Case Manager Supervisor, Michael T. W. Bell, Correctional Administrator I and Bryan Wells, Assistant Superintendent/Programs.
Barb's quote, "I'm as excited as kid at Christmas", appeared in several newspapers after the Kick-Off Ceremony. She wore her Christmas sweater to the graduation ceremony to prove just how excited she was to see this first class graduate. Ironically, the sweater had pictures of five dogs.

Inmate trainer, M. Parker and Cheyenne enter the auditorium as Whitney Doremus (not pictured) introduces each trainer / dog team to the crowd.

Marie Lovero, head of the prison Day Training Sewing Program and, fortunately for us, a Monty's Home volunteer ensured the dogs were properly attired for their big day. Her team of seamsters took great pride in designing and creating caps and gowns each dog wore as they walked across the stage to receive their diplomas.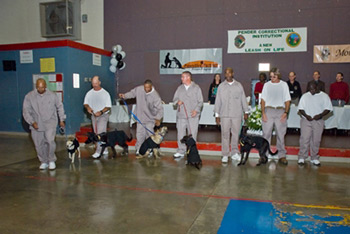 The trainers, dogs and assistant trainers line up in front of the stage to receive a well-deserved round of applause.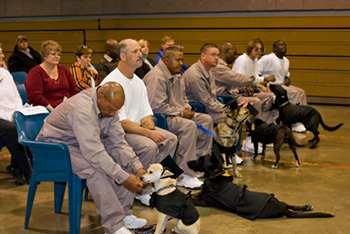 After introductions, trainers and dogs wait for their diplomas.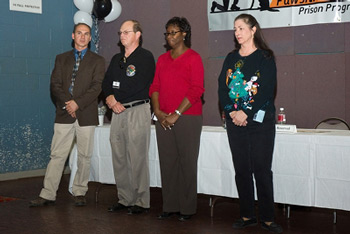 Brian Wells, Michael Bell, Dianne Moore and Barb Raab line up on stage to shake hands with the trainers and award diplomas.
After introducing Ellie to her new Mom, B. Middleton reviews the ceremony program as he hangs on to his copy of the diploma. (D. Smith in the foreground.)
Each inmate received a specially designed diploma in recognition of his hard work. The documents were personalized with the inmate's name, name of the dog they trained and a picture of them with the dog. A gold seal completed the presentation. The gold seal was embossed with a paw print and the words Pawsitive Partners Prison Program. One trainer proudly declared, "I'm going to send this to my mom."

Each adoptive family received the same diploma design, but rather than the inmate and the dog, only the dog was pictured.

Assistant trainers received a diploma imbedded with a picture of all five dogs. Visit oure scrapbook to see the wonderful photos Dick Parrot took for the diplomas.

Special thanks to Dawn Bugni, Monty's Home Board Member, for creating the special diplomas.

Cheyenne's diploma, awarded to her new family along with her Canine Good Citizen certificate and lots of other goodies.

| | | |
| --- | --- | --- |
| After the formal ceremony, six of the seven trainers gather for a fun shot. | | Monty's Home volunteer trainers, inmate trainers and assistants pose for a photo. |
Michael Bell, during his opening comments, said he never expected things to go so well with the first class and that he couldn't think of a single problem with the program. He went on to say he hated waiting until January for the next class to start. That speaks to the hard work and professionalism of the volunteer trainers as well as the dedication of the inmate trainers. With his words, Mr. Bell also silently recognized the Monty's Home volunteers, his own employees and the community members who work so hard behind the scenes to make this program possible.

The volunteers contribute by keeping the Web site updated, making Bow Wow Bandannas, attending area festivals to spread the word and working so diligently to make our annual fundraiser, Monty's Home Pet Expo such a huge success. The Pender Correctional Institution employees also support us in many, many ways, as do several businesses in the surrounding area. Thank-you to them all.

And most importantly, thank-you to our adoptive families, both past and future. Without you, we wouldn't be changing lives, one dog, one inmate, one volunteer and one community member at a time.
First Class -- A New Beginning
After the ceremony at the prison, Barb Raab hosted a small gathering for the adoptive families, volunteers and correctional facility employees at her business, Ringtime Training Center, in Burgaw. Not all the adoptive families were able to attend the ceremony or the "after-party", so we don't have pictures of all the dogs with their new families. We're pleased to share what we have as well as a glorious update from one of the adoptive parents, complete with video.
Jason, Rachel and Kennedy
(formerly Beauty)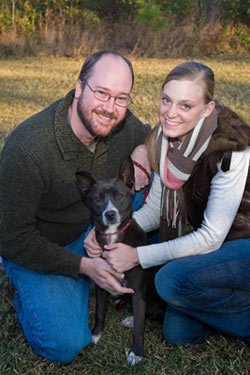 Jason and Rachel have been wonderful about keeping us updated about all the ways Beauty has touched their lives. The following comes from Jason's updates:
"Kennedy (as we have changed her name to- and amazingly enough, she has quickly responded to it) and Roosevelt LOVE EACH OTHER!! It took a few days of getting used to each other, but they have gotten to really get along great. …they will even fall asleep on each other. She is one of the best dogs ever, and we thank you guys for introducing her to us. She has made such a wonderful addition to the family, and we couldn't be happier. Thank you a million times!
"I just wanted to do another quick follow up to let you both know that Kennedy has become such a wonderful part of our lives. I cannot stress enough how much joy she brings to us. As one of the inmates had warned us, "She's a mess, she's great!" He could not have been more accurate. We love her so much!!!! Thank you for saving her! I can't imagine a world without Kennedy! (I think my co-workers are getting tired of hearing about both my children...)"
Jason takes both dogs to the Dog Club of Wilmington occasionally for doggie play days and sent along us a video link provided by the DCW for it's pet parents. He tells us:
Roosevelt pops up on the right side about 19:48 (the counter goes backwards). Roosevelt is black and white with black spots on his legs. Kennedy comes into the picture about 18:44 on the right side as well. About 14:11, center part of the screen and 13:49 on the right side of the screen they are outside and the two of them seem to be just playing with each other.
Take a moment to watch Jason's video, starring Kennedy, Roosevelt and lots of other happy dogs. It'll put a smile on your face. If there every was a match made in heaven. This is it. Surely, Kennedy (Beauty) feels like she hit the lottery, won the jackpot and had the Publisher's Clearing House truck pull up in her driveway – all on the same day – when she met Jason and Rachel. And listening to Jason and Rachel, they feel the same way about her. Thanks guys. This is what it's all about!!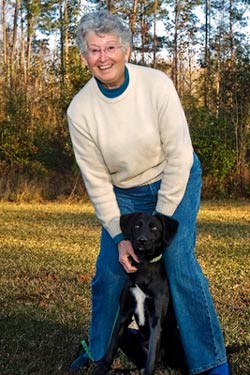 Edith and Delta
Edith and her (grown) son came to meet the dogs at Aunt Kerry's Pet Stop during a meet and greet held there in early November. She spent several hours talking with the Monty's Home volunteers about dogs and dog behavior. And she spent a good deal of the time alone with Delta, walking her around the parking lot, really getting to know each other. Time flew entirely too quickly that afternoon.
Reluctantly, when it was time to go, she handed the leash back to a volunteer and promised Delta she'd see her on the 20th at graduation. If Edith's enthusiasm and love toward Delta that day and at graduation are any indication of the life she and Delta are sharing together now, she and Delta also hit the lottery.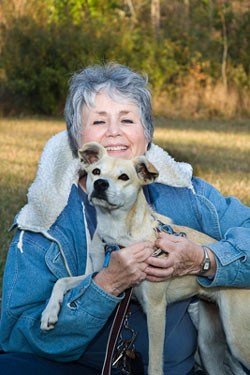 Judging by the smile on Janet's face and the hug Ellie's giving Janet with her right paw, we're three for three in perfect matches. Janet has two grandchildren with special needs and wanted a special dog to fit in with her family. One day, while visiting the weekly adoption fairs held at PetSmart, looking for a companion with the right temperament for her situation, Janet learned about the Pawsitive Partners Prison Program. Fortunately for Janet, the Wilmington rescue network is far-reaching and well connected. A volunteer from one group knew of the PPPP program; a volunteer from another group had a phone number for someone she knew volunteered with the program.
Janet contacted the Monty's Home volunteer, who mailed out the adoption forms the very next day. She and her daughter also came to the meet and greet at Aunt Kerry's to meet Ellie. They, like Edith, stayed several hours. They spent time with Ellie, talked to volunteers and fell in love. Ellie's sweet temperament and small size was exactly what she had searched for in a dog for her grandchildren. It's been said, word-of-mouth is the absolute best advertising. Janet will vouch for that. Word-of-mouth is what brought Ellie into her life.
Janet and Ellie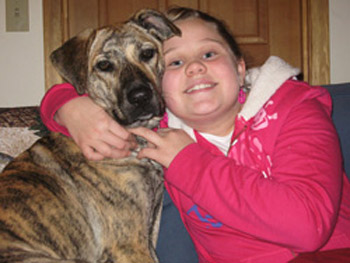 Cheyenne was adopted by out-of-town relatives of one of our volunteers and moved to Vermont. They met her while visiting around graduation time, fell in love, returned to Vermont to prepare for her arrival, drove back to North Carolina to get her and now she's living the life of Riley in the Northeast. Sounds like she hit the jackpot too.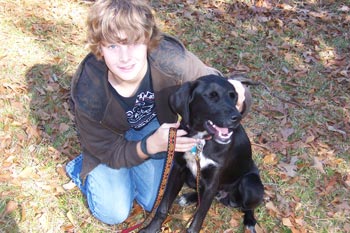 Amos found a wonderful home and in their words " with his own boy to play with" what a great match up!